my buddy
icon:
Allan —
DJ CHEF has established himself as "The King of The Funky Breaks". For years now kids from all over the world have been coming out to see and hear this New York native. It's easy for kids to see him live due to the fact that he's on the road most of the year. Quite simply, this is where it all started for the hardest working DJ in America. His spinning career got into full gear with his residency at the now defunct club, The Edge. Not only did DJ CHEF use that time to pioneer funky breaks and launch his remix-producer career, he also made history by convincing the then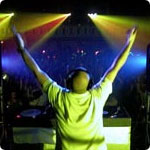 unknown Chemical Brothers to play their first U.S. Show on July 4th, 1993 at The Edge.
Building this solid foundation led to DJ CHEF getting requests from other clubs wanting to book him. He hit the road and hasn't looked back. Now regarded as the "King of the Funky Breaks" (Mixmag April 1998) by creating a sound that is uniquely his own, he's won a legion of followers all across the U.S. Furthermore, due to the eclectic nature of his set, it's no wonder that on any given moment his dance floor might be packed with breakdancers, B-boys, Ravers, Club Kids, Suburban Kids, and even Inner City Kids all brought together by DJ CHEF.
So what does the future hold for DJ CHEF? He has his own label "Zone Records" through which he has released 12" mix's. He will be following in the footsteps of other Essential DJ's such as Pete Tong, Fatboy Slim, and Paul Oakenfold, with the release of this summer's "Essential Mix - mixed by DJ CHEF." In addition, DJ CHEF will continue playing his heart out, spinning in his own inimitable style, and... opening a restarant in New York City.
That's right, DJ CHEF is a damn good cook! You've already been dazzled by his "funky breaks", now you can let him dazzle you with the funky chicken. If you are the cooking type, try out this recipe for DJ CHEF's famous 'Chicken Chunks.'
allan's original recipe:
'chicken chunks'
marinade:
* 3-1/2 LB boneless chicken breasts
(cut into 1 - 2 inch chunks)
* 2 cups buttermilk
* 1/4 cup water
* 2 teaspoons red pepper sauce
* 6 cloves garlic, smashed
* 1 cup chopped mixed fresh herbs
(parsley, tarragon, thyme)
breading:
* 3 cups all-purpose flour
* 1/2 teaspoon paprika
* 1/2 teaspoon cayenne pepper
* 1 tablespoon dried oregano
* 1/4 teaspoon garlic salt
* 1 tablespoon kosher (or sea) salt
* Fresh ground black pepper

* Peanut oil for frying
::: cooking directions :::
1) Combine 'Marinade' ingredients.
2) Marinade chicken pieces for at least two hours -- up to twenty-four hours (promotes tenderness.)
3) Combine 'Breading' ingredients.
4) Heat peanut oil to 350° F.
5) Thoroughly coat marinated chicken pieces with flour mixture. Shake off excess flour, and set (single layer) on paper towels.
6) Carefully add a single layer of prepared chicken to heated oil -- oil should cover chicken. Fry for six to eight minutes until light-golden brown.
7) Remove cooked chicken to fresh paper towels.
8) ENJOY!!
The characters and events depicted in this biography are fictional. The characters bear no resemblance to any person living or dead.