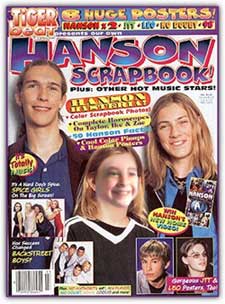 John —
It's a shameful family secret, but someone has to reveal it! John was the original drummer for the bubble-gum teen band, Hanson... only to be fired during the all-day celebration for the youngest Hanson boys 8th birthday party at Chucky Cheese's.
In this special issue of TigerBeat, the "Original" 'Hanson' boys discuss the bands origin, the musical inspirations, and reveal their utmost secrets.
"John was the best drummer in the world," says the eldest Hanson, adding, "he really knew how to jam! We would practice in our basement after school, and John would warm up with this cool medley starting off with 'Stairway to Heaven', then mix in a little 'Freebird', 'In the Air of the Night' and 'Dust in the Wind'. He is right up there with John Bonham and Alex Van Halen."
You could see in Johns eyes that he was reliving those far-gone moments of the past in his mind, then after an awkward moment summerized his departure this way; "I would like to have played with them longer, but Mr. Hanson explained that non-Hanson band members would be rotated out like those Monudo guys. I guess my time was up."
Just like his mother's TV career, his musical career was over before it even started. But hey... at least he got onto the cover of TigerBeat! I mean, how many people do you know who can say that?
The characters and events depicted in this biography are fictional. The characters bear no resemblance to any person living or dead.