my buddy
icon:
Justin —
One of the top offensive linemen in the Big 12 Conference as a junior and senior...Started in 33 consecutive games as a sophomore, junior and senior.....A three-time Jayhawk Scholar (3.0 or better grade point average)....Originally came to KU as a walk-on after being injured in the first game of his senior season in high school....Operated as an offensive tackle throughout his career until being move to right guard for the final seven games of 1997....Recorded an impressive squat lift of 625-pounds....Also registered an impressive vertical leap (28.5 inches) for someone his size.....Note: Has an older brother, Jeff, that played football at Emporia State....Born: May 17, 1977....Major: Sport Management.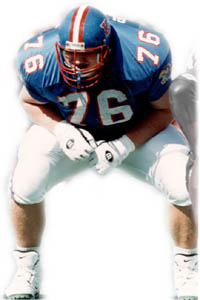 As a Senior (1998) —
Served as team co-captain....An honorable mention All-Big 12 Conference selection....Started at right guard in all 11 games....Selected for the Blue-Gray College All-Star game in Montgomery, Ala.....Selected to the academic all-conference....Named offensive player of the game by the coaching staff for his performance against Texas A&M.
As a Junior (1997) —
An honorable mention all-conference selection... One of four players in the offensive line to start every game in 1997... Moved to right guard for the final seven games after starting the first four games at right tackle... Was given the game ball by the KU staff for his efforts in KU's 34-24 win over Iowa State.
As a Sophomore (1996) —
Made his college starting debut in the season opener versus Ball State and stayed in the lineup throughout the season... Was on the field for a season-high 98 plays versus TCU... Played a major role in helping June Henley break the career rushing mark at KU.
As a Freshman (1995) —
Joined the squad as a walk-on and quickly was awarded a scholarship during pre-season... Operated No. 2 on the depth chart throughout the season... Saw action in seven games.
High School —
Rated as the sixth-best player in the state and 33rd-best player in the Midlands in the preseason issue of SuperPrep Magazine... Suffered a broken foot in the first game of his senior year which sidelined him for the season... Earned all-conference and second-team all-city after his junior season... Was the 5A state wrestling champion in the heavyweight division... Also a two-time state shot put champion... Was a Boys State participant and served as president of his senior class in high school... A three-year honor roll selection... Coached by Bill Lowe.
...or maybe I am just confused! I may have the wrong Justin. I don't think KU plays football in England.