my buddy
icon:
Scott —
Sometimes when I reflect back on all the beer I drink I feel ashamed - Then I look into the glass and think about the workers in the brewery and all of their hopes and dreams. If I didn't drink this beer, they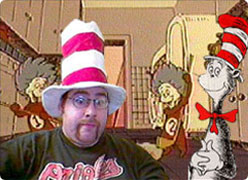 might be out of work and their dreams would be shattered. Then I say to myself, "It is better that I drink this beer and let their dreams come true than be selfish and worry about my liver."

— Deep Thought, Jack Handey
News of the Weird reported the January 2000 arrest of Scott after a three-year, $8,000 spree of squeezing and smashing packages of bread and cookies in various local-area supermarkets (and who was finally caught in the act by a hidden camera).
Though Scott argued that he was simply a finicky shopper, Judge David Heckler found him guilty in September and told him to get help for this urge to mutilate bakery products.
At a November sentencing hearing, Heckler exploded when informed that Scott was continuing to deny guilt, but after a lawyer-client consultation, Scott admitted he had "a problem" and promised that his wife would monitor his supermarket visits.
The characters and events depicted in this biography are fictional. The characters bear no resemblance to any person living or dead.