my buddy
icon:
Steve —
"I caught a fish... and it was thiiiiiis biiiiig!"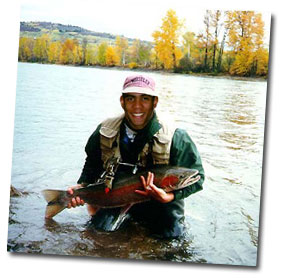 When it comes to Steve, there is more truth to the common colloquialism that one would think — we Steve catches a fish, he catches it with his bare hands!
As a young boy growing up in the Pacific Northwest, Steve would frequently become frustrated when he found himself unable to get a bite on any of the various lures used while fishing in these pristine waters.
Noticing that the bears with which he shared the rivers edge simply walked into the water and grabbed a fish, Steve joked with his friends that he could do the same — simply walk into the water and catch a fish with his bare hands. To the shock and amazement of everyone, he did. Not only did he catch a fish (above), he was the only one to make a catch that day; a 32 lbs.. trout.
Every since that day, Steve has been referred to by the locals as "Bear"... and every since that day he has been perfecting his hand-fishing techniques; becoming more successful than his buddy's who use the old fishing pole.
The characters and events depicted in this biography are fictional. The characters bear no resemblance to any person living or dead.